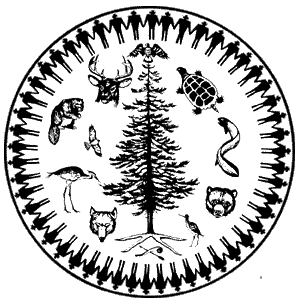 Mohawk Nation Council of Chiefs
---
The Mohawk Nation Council of Chiefs is responsible for social, cultural, and political integrity of the Mohawk people. There are 8 Mohawk territories:
Akwesasne
Ganienke
Kahnawake
Kanesatake
Kanatsiohareke
Six Nations
Tyendinega
Wahta
Governmental responsibilities currently are:
Land Claims negotiations
-Tri Council (MNCC, MCA, SRMTC) works together in the land claims negotiations with NYS to recover Akwesasne Mohawk Territory and sue for past damages. There are many issues affecting land claims.
- Barnhart Island - leased by MCA. Currently the site of the Moses-Saunders Power Dam.
- Thousand Islands Claim - Recovery of land confiscated by Canada extending to Gananoque, Ontario.
- Meetings with Mississauga Band of Ojibwe to discuss land claims and boundaries.
- Kanesatake - represent rights in current land negotiations.
Treaties:
Caretaker of the conditions of the treaty to uphold our end of the agreement.
Roundtable Discussions:
Kanesatake/ Kahnawake/Akwesasne.
Socially/Culturally:
Longhouse/Cookhouse Building Project - New facilities have been constructed to expand to meet the needs of our growing Haudenosaunee community.
Rourke case - Advocate of Raymond Rourke's right to keep his hair long.
Ceremonies - Right of Mohawk people for spiritual fulfillment. Keeper of the four sacred ceremonies.
Education:
Akwesasne Freedom School. Grades Pre-K to grade 8.
Mohawk language and culture. Right to teach our children who they are.
Final year- integration to Public school.
Communications:
CKON- Radio Station is funded and licensed by the Mohawk Nation.
Akwesasne Notes Magazine - International magazine.
Indian Times Newspaper - Local community paper.
Akwesasne Notes Bookstore - Haudenosaunee (Iroquois) and other Native American literature.
Government Services:
Haudenosaunee Passports- Confederacy Passports, Birth Certificates, Marriage Certificates, and Identification Cards (Red Cards).
Bridge Passes: Negotiations with the Seaway International Bridge Corporation.
International:
Haudenosaunee Environmental Task Force (HETF) Haudenosaunee Restoration Project - Environment cleanup and education, as well as a laboratory for testing pollutants.
---
Return to Mohawk Nation Home Page.