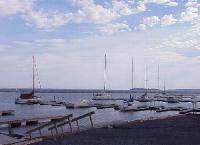 Welcome to The Lake City: Plattsburgh, New York, USA. Plattsburgh is located
in the northeast corner of New York and is the county seat of Clinton County.
Location truly is everything, and Plattsburgh, accessible via auto, bus, rail, and
air, is situated on the western shore of historic Lake Champlain; is only about
300 miles directly north of New York City; 150 miles north of Albany, the state
capital; and an hour's drive south of Montreal, Quebec, Canada, a cosmopolitan
city second only to Paris, France, in number of French-speaking residents.
Lake Placid, New York, host to the 1932 and 1980 Winter Olympic Games, is
an hour's drive to the southwest. Lake George is an hour and a half due south.